Call it what you like! COLLECTION RIK REINKING
Art Centre Silkeborg Bad
Juni - September 2008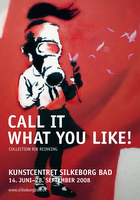 From the 14th of June until the 28th of September 2008 the audience at The Art Centre Silkeborg Bad will be able to gain an insight into a highly interesting period in modern art. The Art Centre Silkeborg Bad has succeeded in borrowing more that 120 works of art by internationally acclaimed artists from a large German private collection. The exhibition offers a great opportunity for getting some idea of pivotal aspects of contemporary art.
In the exhibition entitled "Call it what you like! COLLECTION RIK REINKING", the audience will thus, in Silkeborg, be able to experience works of art which challenge the prevailing conception of art, from mid-June and three-four months onwards. The selection of works of art for the exhibition takes as its' starting point Conceptual Art of the 1960's and -70's, Minimalism, Pop Art and Street-Art. All of these categories are well represented in Rik Reinking's collection.
The collector, the 32 years old Rik Reinking, has for some time now collaborated closely with employees at The Art Centre Silkeborg Bad in making the exhibition a interesting platform for the audience's encounter with the forms of expression of contemporary art. There will be made good use of the exhibition areas.
Reinking's motive for building a significant international collection is his passionate interest in contemporary art and in communicating art.
The exhibitions includes works of art by Nir Alon, Carl Andre, Hermine Anthoine, Herbert Baglione, Miroslav Balka, Banksy, John Von Bergen, Rolf Bergmeier, Guillaume Bijl, John Bock, Victor Bonato, Boxi, Daniele Buetti, Werner Büttner, Baldur Burwitz, James Lee Byars, Andre Cadere, Lawrence Carroll, Max Cole, John Mccracken, Amie Dicke, Brad Downey, Jimmie Durham, Henrik Eiben, Johannes Esper, Robert Filliou, Urs Frei, Tom Früchtl, Hamish Fulton, Gregory Green, Nan Goldin, Rodney Graham, Till F.E.Haupt, Georg Herold, Jim Hodges, Mark Jenkins, Joe Jones, Izumi Kato, Wulf Kirschner, Jon Kessler, Imi Knoebel, Gary Kuehn, Toshiya Kobayashi, Barbara Kruger, Ange Leccia, Konrad Lueg, Daniel Man, Jonathan Meese, Björn Melhus, Jonathan Monk, Piotr Nathan, Bruce Nauman, Ernesto Neto, Cady Noland, Obey, Os Gemeos, Tony Oursler, Markus Paetz, Blinky Palermo, Stefan Panhans, Dan Peterman, Pius Portmann, Stephen Prina, Richard Prince, Robert Rauschenberg, Rudolf Reiber, Mirko Reisser (DAIM), Klaus Rinke, Rolf Rose, Sam Samore, Michael Schmeichel, Till Schwieker, Santiago Sierra, Roman Signer, David Simpson, Rainer Splitt, Stohead, Thorsten Tenberken, Tilt, Rosemarie Trockel, Günter Tuzina, Dimitris Tzamouranis, Meyer Vaisman, Miss Van, Ben Vautier, Ludwig Vandefelde, Vitche, Johannes Wald, Lawrence Weiner, Pablo Wendel, Stefan Wewerka, Johannes Wohnseifer, Sol le Witt, ZEVS
KunstCentret Silkeborg Bad
Gjessøvej 40 A-D
8600 Silkeborg / Dänemark - Google Maps
silkeborgbad.dk
Mehr Informationen zum
Katalog
.
Links zum Thema:
just.ekosystem.org - Fotos vom Aufbau
Labels: ausstellungen , call-it-what-you-like

nach oben